Our Beginnings...
In 1997 Stephen G. Hoffman and Timothy Cavanaugh started The Run to Daylight Education Program. Together they had the vision of providing the players with the opportunity to attend some of the top boarding schools in the northeast as well as local private schools in the New York City area.
Tragically, Stephen Hoffman was among those lost in the World Trade Center disaster during the events of September 11th, 2001.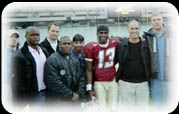 Coach Tim is now joined by the first Run to Daylight Education Program candidate Taylor Sele in our mission to help our players attend some of the most prominent prep schools in the country. Taylor had been accepted to the preparatory school Lawrence Academy in Massachusetts in September of 1999. After a successful prep-school career as the state of Massachusetts' third ranked high school prospect and one of the tops in the nation, Taylor was courted by Notre Dame, Maryland, and Kentucky before deciding to attend Boston College. As of the fall of 2002 he was red-shirted and we all anticipate a stellar collegiate career to come.
Since the start, the Run to Daylight Education Program has helped upwards of 35 other young men in fulfilling their dreams of attending these prominent academic institutions.